Banking stocks look attractive now from the valuation perspective, believe foreign brokerages. After the recent corrections as well as unabated FII selling, most banks are trading below their 10-year averages.
HDFC Bank's price-to-book value, for instance, is 3.25x while its 10-year average is about 4x. Axis Bank is trading at 2x while its 10-year average is 2.2x. State Bank of India is trading in line with its 10-year average of 1.4-1.5x.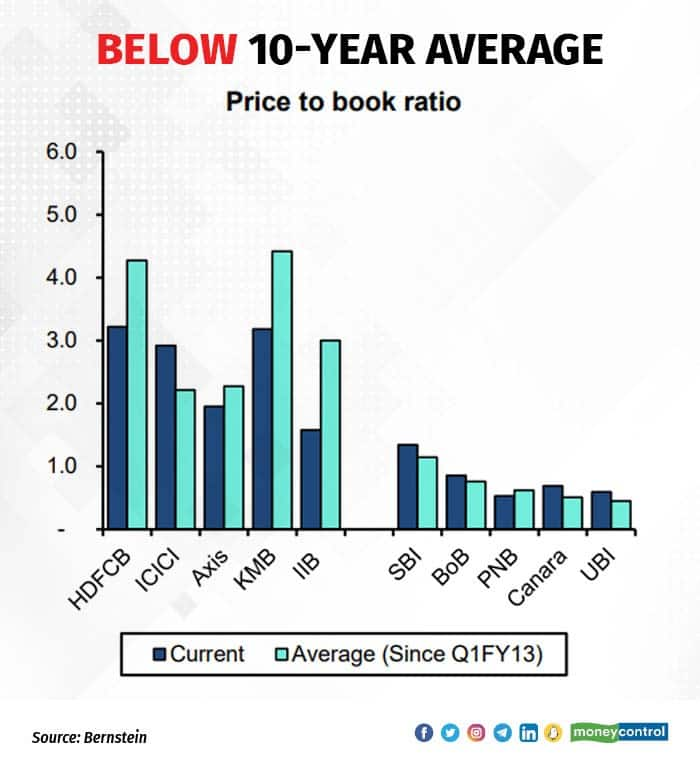 If we look at a smaller horizon, the valuation of the financials pack is at the lower end of the range over the past three years. According to financial services firm Jefferies, valuation premium of Indian financials over emerging market financials is also near a three-year low and in line with long-term average.
These subdued valuations are making the risk-reward picture rather compelling, the brokerages believe.
"The operating environment for banks remains the best it has ever been in the last decade. Credit growth remains strong above 15 percent and a nominal GDP growth of over 10 percent would be sufficient to ensure it remains in the mid-teen levels," according to a Bernstein report.
Further, gross non-performing assets and net non-performing assets ratio continue to decline annually as well as sequentially.
Franklin Moraes, AVP - Research at Research and Ranking, said better asset quality metrics will sustain going forward. "Since topping out in December 2022, Bank Nifty has corrected 5 percent so far. What appeared to be a panic initially caused by the Adani episode has eased out, with most banks flagging the Adani exposure being below 1 percent of their advances and backed by strong collaterals," he said.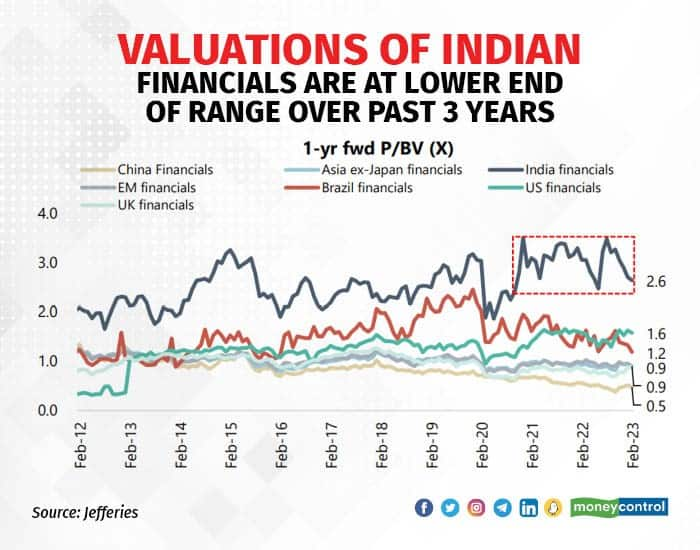 So is it a good time to lap up these shares?
Fund managers that Moneycontrol spoke to believe that investors should not ignore the obvious risks. "As central banks keep raising the rates, banks will face treasury losses if bond yields start moving higher beyond 7.5 percent level," Azeem Ahmad, Head PMS and Principal Officer, LIC Mutual Fund said.
Concerns around net interest margin compression also continue to linger. The current net interest margin level for most banks is in line with the peak levels seen since 2013.
"In the near-term, banks will witness some moderation in NIMs as the benefit of faster repricing of advances over liabilities is now mostly in the numbers," Christy Mathai of Quantum AMC added.
But, over the medium-term, banks remain well capitalised to participate in India's economic upcycle, remains the prevailing sentiment. According to Ahmed, discretion is the better part of valor.
"One needs to be very selective and look at only frontline private and public sector banks and invest in a staggered manner. The horizon still looks gloomy especially in the coming 2-3 months," he said.
Disclaimer: The views and investment tips expressed by investment experts on Moneycontrol.com are their own and not those of the website or its management. Moneycontrol.com advises users to check with certified experts before taking any investment decisions.??