India's low-cost labour, which is at the heart of the country's competitiveness and the source of its growth optimism, will need to change if consumption is to take off in a big way.
"While India accounts for 18-20 percent of the world's population, we still need to learn how to consume – much, much more," Kishore Biyani, the pioneer of retailing in India, said in a recent podcast.
Hum honge kamyaab (we shall overcome), he remarked, adding that consumption in the US and Europe helped the world economy grow earlier. Now, it is China that is driving growth, while India is still awaiting its turn.
What is holding back consumption in India? The answer lies in low per capita income – you can consume more only if you earn more.
Looking back at the past 10 years, GDP has doubled to $3.75 trillion from $1.88 trillion, while the benchmark Sensex stock index has more than tripled to 65,900 from 19,400. At the same time, per capita income – the amount of money earned per person – has grown at a much lower pace, just about 1.7 times to $2,500 from $1,438.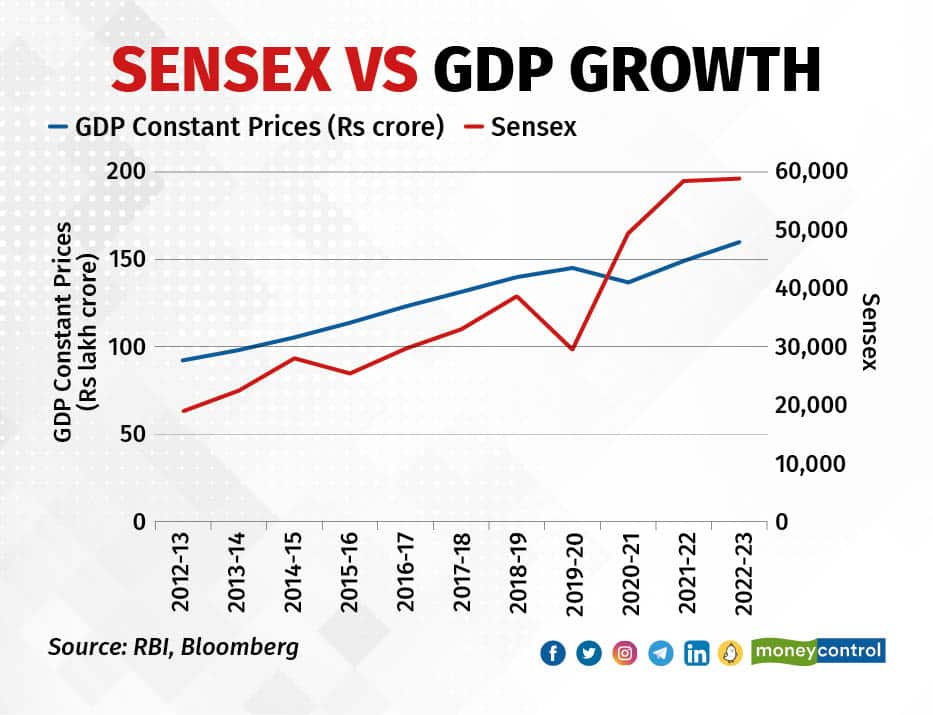 The stock markets are an indicator of the future, and if valuations of some "consumption stocks" are any indication, investors sense that India's consumption story will speed up over the next few years, riding on higher growth in disposable income.
Research firms now peg the per capita income figure at $5,000 by 2030. According to a survey by People Research on India's Consumer Economy, the share of the middle class, with an annual household income of Rs 5 lakh-30 lakh, more than doubled to 31 percent last year from 14 percent in 2004-05, and is projected to rise to 46 percent by 2030.
This is the group that holds the key to economic prosperity and the long-term structural market rally. The markets are hopeful that a sustained investment push and government schemes will help create jobs and boost income.
"Central government capex has boomed, having delivered the highest ever fiscal Q1 capex. Along with this capex boom, new PLI (production-linked incentive) schemes and welfare plans will percolate to boost household incomes," said Rajesh Cheruvu, chief investment officer at LGT Wealth India.
This not only creates a long runway for growth but also the possibility of hockey stick growth in certain consumer segments, said experts.
Sectors to gain
"The growing economy and favourable demographics are enablers of the shift from unorganised to organised and increasing premiumisation, thereby fuelling growth across consumption buckets such as durables, retail, jewellery, food services, alco-bev, and travel, among others," Kimberly Paes, AVP - Research, Research & Ranking said.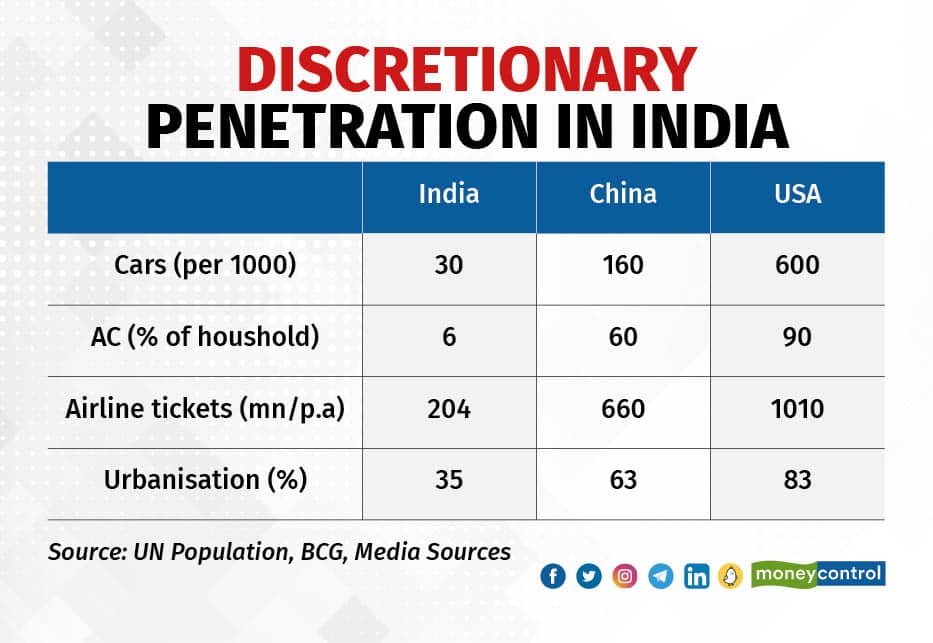 Consumer durables will be the biggest beneficiary of per capita income growth. In India, the level of installed air-conditioners hovers at 6-7 percent compared with 90 percent in developed countries. No wonder Voltas has started work on a new AC plant in Tamil Nadu even after losing market share over the past year. Refrigerators can be found in about 33 percent of Indian homes.
The jewellery industry, although high value, is largely dominated by the unorganised sector with a 65 percent share. Still, the organised sector has grown faster in the past couple of decades – at 20-plus percent versus high single-digit growth for the unorganised sector, explained Paes.
Ramesh Kalyanaraman of Kalyan Jewellers told Moneycontrol that younger buyers are gravitating towards studded and light jewellery.
"Some customers are coming in once in two months to change their office-wear jewellery designs. The new buyers want trust, which is being assured by the big players," he said.
Like the jewellery market, India's retail sector is dominated by the unorganised players at about 88 percent, providing significant headroom for growth as aspirations rise. If it were not for COVID-19, India's retail market would have touched $2 trillion by 2030. The Boston Consulting Group now sees this milestone being achieved by 2032.
Fashion and apparel, homeware, and department stores are leading space-leasing activity this year to compensate for the slow expansion during the first two pandemic years. Zudio by Tata's Trent plans to add 130 stores this year.
With a $2,500 per capita versus $12,700 for China and positive demographic trends, Morgan Stanley said India is 'arguably' at the start of a long-wave boom at the same time as China may be ending one.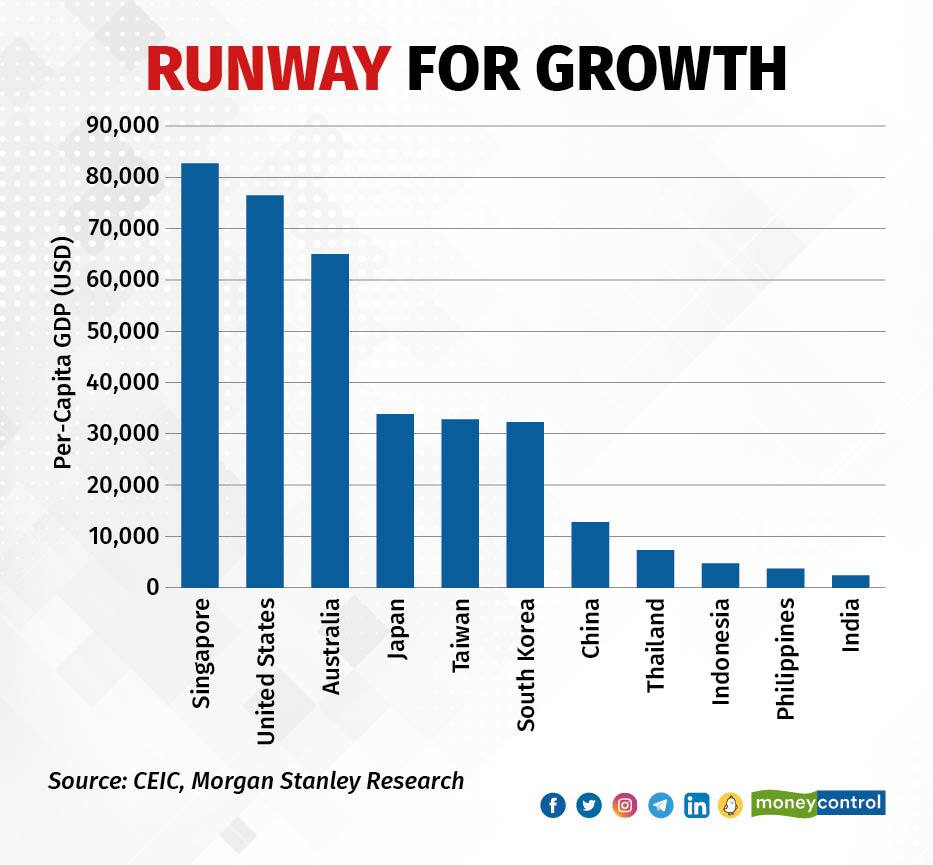 "Consider that household debt/GDP in India is just 19 percent versus 48 percent for China and that only 2 percent of Indian households have life insurance," it noted.
Missing link
While the drive to become a $10 trillion economy is afoot, given the favourable geopolitical situation and policy push, India needs to work harder to cut red tape and work on getting policies implemented on the ground, experts said.
India's higher bureaucracy in decision-making could reduce its attractiveness as a destination for foreign direct investment (FDI), especially when competing with other developing economies in the region such as Indonesia and Vietnam, Moody's Investors Service said in May.
Strong FDI and job creation will be central to India's consumption story. "The long runway need not be smooth and is likely to see obstacles at different intervals as seen in the past," said Abul Fateh, head of fundamental equities at True Beacon.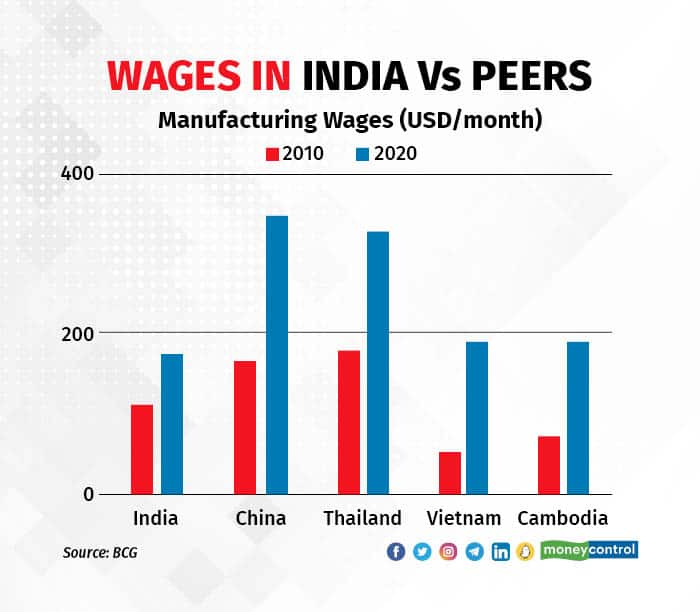 Most importantly, low wages which give India a competitive edge when it comes to manufacturing, also highlight the need to address the labour class. Manufacturing wages in India have only modestly grown in the past 10 years while in China, Thailand, Vietnam, they have doubled.
These are the same workers that will add to the consumption chain when they have more money in the hands to spend heartily.